EZ FLO
The eco-friendly way to feed your lawn & landscape through your sprinkler system AND rid your yard of unwanted critters & mosquitoes. EZ-FLO offers:
Pro-Kill Insect Control – Kills mosquitoes & ticks on contact AND where they breed so that you can enjoy your outdoors any time of the day or night.
EZ-GRO Organically Balanced Fertilizer – Build a healthy lawn while you feed turf, trees, shrubs, flowers and veggie gardens.
EZ-Organic Critter Control – Never again lose costly plant material to those cute, but annoying back yard critters. This product repels but does not harm: deer, gophers, moles, voles, rabbits and more!
Pinnacle is currently the only local authorized installer of EZ-FLO systems.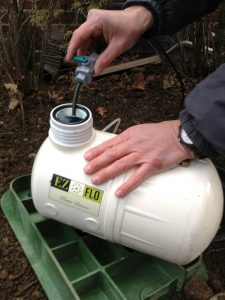 Emits product every time you run your sprinkler system
Retrofits to any sprinkler system
Replaces hose end sprayers, tank sprayers and fertilizer spreaders
Uses up to 90% less fertilizer due to superior nutrient intake
Reduces water usage by up to 30% annually
Reduces or eliminates weed control applications by up to 40%
Eliminates fertilizer runoff and exposure to harmful chemicals
Prices start at $650 for the unit installed AND filled on most systems
NJ Fertilizer Applicator Lic #C004498
Comm Pesticide Applicator Lic #56461B